Immersive Explorer for Windows 8, 8.1 x86/x64 or Windows 7
Immersive Explorer is an open source alternative to the default file explorer included in Windows (known as Windows Explorer).
It is designed to provide an "immersive" experience to the user by focusing on the content rather than hiding it behind icons and large window chrome and borders. It allows the user to avoid opening different applications and switching between multiple windows when doing tasks as simple as viewing a picture, thanks to the built-in viewer.
Although it is not a Windows 8 "Metro application", Immersive Explorer is designed around the "Metro" user interface guidelines. It is optimized for tablets and computers with touch-screens, but it also offers a great experience for mouse/keyboard users (with features like scroll-to-zoom, keyboard navigation).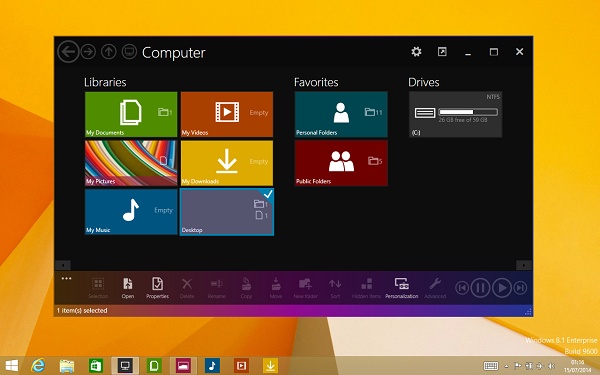 Immersive Explorer is based on Win32/.NET/WPF (Windows Presentation Foundation). It uses graphical hardware acceleration to display fluid animations and transitions, making it look more modern than the default Windows File Explorer. Note that it's not a complete replacement for the Windows Shell (it's just an alternative to the Windows Explorer) and it doesn't even need administrator rights to be installed.
As Immersive Explorer is not based on WinRT, it means that it can't run on Windows RT devices such as Surface RT (but it works great on Windows 8/8.1 tablets like Surface Pro).
Download
Release Notes (current version : 1.0.8.1, released 2014/08/23)
Source code
License
Release notes for Version 1.0
Finally! One year and a half after the release of its first beta version, Immersive Explorer is now available in version 1.0!
This 1st stable version should be good enough for daily use on desktops, laptops, or tablets.
I hope you'll enjoy using it, and that you'll find it useful! And if you do, please consider sharing it with your friends :)
(Having more people who use my application motivates me to spend more time working on it!)
Immersive Explorer is free, and will stay free. The source code will also be released at the same time as the version 1.0.2. However, I've decided to keep using timebombs in the stable release. While I know that a few users will dislike this practice, I think it's a reasonable choice to ensure that people always use the latest version of my application.
This decision is based on my experience with my previous projects: I still see a lot of web sites offering 5-years old outdated versions of my apps for download, and many people who download these very old versions don't take the time to download the latest version. When they encounter a bug, they just stop using the app (and sometimes, they even write a negative comment about it!). I hope you'll understand that, for me, it's important that people don't judge my work based on bugs I may have fixed months (or years) ago.
Also, I want to say thanks to all the people who have used the beta releases during all this time. Your feedback (especially bug reports) has been very valuable! Keep sending me emails or posting comments on my web site about suggestions and bugs you encounter!
What's next?
There are still a lot of features that are missing from Immersive Explorer 1.0, but here is what I plan to implement in the coming weeks:
-Version 1.1 will include an Image Resizing feature (with live preview of the result and comparison with the original image)
-Version 1.2 should add support for automatic refresh of drive list and folder content
-Version 1.3 should add support for favorite folders, and custom folder wallpaper
-Later versions will implement audio playlists, improve the picture viewer's touch support, folder content load time, ...
Configuration required :
Windows Vista, Windows 7, Windows 8 or Windows 8.1
If you're using a tablet :
-At least an Intel Atom Bay Trail CPU (most tablets released with Windows 8.1).
-Also works with an Atom Clover Trail CPU (most tablets released with Windows 8.0) but requires further improvements to run smoothly.
If you're using a desktop/laptop : At least a Dual Core CPU (Core 2 Duo, Core i3/i5/i7, Athlon 64 X2, ...)
At least 1 GB of ram
The .NET Framework 4.0 or 4.5 must be installed (it is already installed by default in Windows 8 and 8.1, but not on Windows 7)
Support Immersive Explorer development :
If you like this application, you can now donate via Paypal :
Translations :
Want to help translate Immersive Explorer in your language?
Contact me
!
Some of the translations listed below may be old and no longer updated by their original author. If you find that your language is not well translated, I would be glad if you want to send me an update by email! (use the en.lang file as reference)
Language
Availability
Author
Status
English
Included
Julien Manici
OK
Amharic
Automatic download
Melaku Seyoum
Outdated
Arabic
Automatic download
Majed Alotaibi
Outdated
Armenian
Automatic download
Hrach Mkrtchyan
OK
Catalan
Automatic download
Cesar Andres Arias
Outdated
Chinese (simplified)
Automatic download
1st version: Li Bowen
2nd version: 大眼仔~旭(Anan)
Current version: 雨棚
OK
Chinese (traditional)
Automatic download
Current version: 雨棚
OK
Czech
Automatic download
Marek Snapka
OK
Dutch
Automatic download
Jan van Dijk
Outdated
French
Automatic download
Julien Manici
OK
German
Automatic download
Philipp Borucki
Outdated
Greek
Automatic download
1st version: Wasilis Mandratzis
Current version: geogeo.gr
OK
Hebrew
Automatic download
Aharon Don
Outdated
Hungarian
Automatic download
"Bluestar"
OK
Indonesian
Automatic download
1st version: "Luke"
Current version: Venson Wijaya
OK
Italian
Automatic download
1st version: Gianfranco Di Tommaso
Current version: Ingemi Paolo
OK
Korean
Automatic download
Jaehyung Lee
OK
Persian
Automatic download
1st version: Javad Rajabzadeh
Current version: نیکان دالوند
OK
Polish
Automatic download
Krystian Duszynski
Outdated
Portuguese
Automatic download
Outdated
Portuguese (Brazil)
Automatic download
Robson Ciconelli
Outdated
Romanian
Automatic download
Brebenel Silviu
Outdated
Russian
Automatic download
Nikita Sotnichenko
Outdated
Spanish
Automatic download
1st version: Jorge Ronald Cribb
Current version: Sismo Kritikal
OK
Spanish (Mexico)
Automatic download
Luis Jaramillo
OK
Swedish
Automatic download
Kim Andersson
Outdated
Turkish
Automatic download
Enes Demirel
Outdated
Ukrainian
Automatic download
Outdated
Uzbek
Automatic download
Shaxriyor Hoshimjonov
OK
Vietnamese
Automatic download
Trịnh Bảo Khương
Outdated
Comments about Immersive Explorer
New
pablo philips

- 2014/08/28 13:13
thanks =)
Sparsh

- 2014/08/23 15:39
And, I also get the metro user interface for file/folder properties.
RaHuL AsHu

- 2014/08/22 22:08
Everytime when i run this it give a message that was out_of_date. but it was the latest version(1.0.8). give me the solution as soon as possible.
Julien MANICI

- 2014/08/23 17:12
I've just released the version 1.0.8.1 to push back the expiration to a later date, as I'm not ready to release the version 1.0.9 yet.

Sorry about the troubles!
Ludger

- 2014/08/21 10:07
I have installed the latest version 1.08 from immersive explorer, but at every start I get a message: Update available, Beta-version has expired. What´s the reason?
Julien MANICI

- 2014/08/21 16:50
Sorry the version 1.0.9 is not yet available.
In the meantime, to avoid the expiration error, just let Immersive Explorer connect to the internet so that it can verify online that there is no update available.
Sparsh

- 2014/08/23 15:35
But we can't. I can't be connected to Internet everytime. Please, prepare a fix for this as soon as possible. We really appreciate your work and are very impressed with it too. But, this message turns to be a defective part of this application.
Julien MANICI

- 2014/08/23 17:13
I've just published a fix.
Sparsh

- 2014/08/24 09:40
What is it? Whatever it is, it should be offline, please.
Julien MANICI

- 2014/08/24 12:25
Just download the version 1.0.8.1. That is the fix for the expiration issue.
victor123

- 2014/08/17 00:23
julien Manici I recommend you to enter the immersive explorer in https://github.com for people to help improve it
New